Disclosure: This shop has been compensated by Collective Bias, Inc. and its advertiser. All opinions are mine alone. #TearASquare #Brawny #TargetFinds #CollectiveBias
No matter how much my OCD clean-freak self would like to change the fact – kids are messy. There's just no way around it. I feel like most of my day is spent cleaning up some sort of kid mess (hello baby led weaning and potty training!). Paper towels are a necessity in our home. I use them for a ton of things around the house. I like to wrap my herbs in them to keep them fresh longer, I use them in fruit bowls to suck up moisture, I wrap my husband's sandwiches in one to keep them from getting soggy and of course they are great for cleaning. The new Brawny® Tear-A-Square™ has been my savior for kid messes though. Small or big they have me covered! Brawny Tear-A-Square paper towels offer three sheet size options in each roll: full sheet, half sheet and quarter sheet. Now I can use just what I need without the waste. Read on to see how I conquer all the kid messes!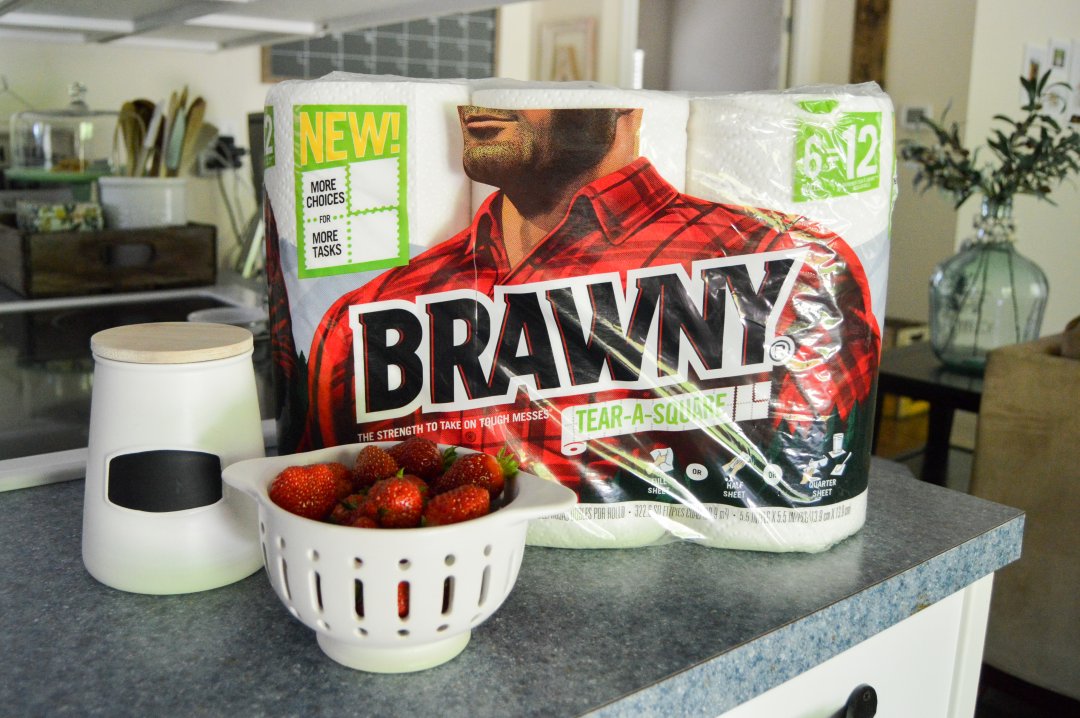 Hover over the image above to start shopping for Brawny Tear-A-Square.

Everyday Messes I am in the thick of toddler potty training and she just does not understand do not get off the toilet until we wipe! I keep a roll of Tear-A-Square handy in the bathroom next to the disinfecting spray. A quarter sheet is the perfect size to clean up pee drops on the floor! Other everyday messes around here include: spilled milk or juice, finger paints all over the kitchen table, tiny hand and dog prints on the glass door, baby poop and/or spit up all over me, and there is usually some sort of food ground into the hardwood floors. Brawny 6, kids 0!
Wiping Tiny Faces and Hands It's strawberry season and our garden is producing like crazy! A huge part of baby led weaning is letting your child play with and experience the tastes and textures of new foods, even if that means a huge mess! Timothy loves making jam with his strawberries. This whole mess was cleaned up with just 1 damp, whole sheet of Brawny.
Brawny paper towels are actually very soft once wet. They don't scratch or bother my son's sensitive baby skin which is a bonus since I'm wiping his face and hands multiple times a day! It must be a boy thing because my daughter was never this messy with her food.
Crayon Eraser Did you know that all you need to get crayon out of unwanted places is a paper towel and an iron? People think I'm crazy when they see I leave Parker's crayons out all day long. I want her to be able to color whenever she wants but the occasional mess does happen. Once she showed her creative side all over her white bookcase! We used that as a teaching lesson though and I was able to get the crayon off simply by melting it. All you have to do is fold up a couple pieces of paper towel and place the hot iron on top of it for a minute. Then wipe off! Magic!
I love being able to use one product for all our messes. The new Brawny Tear-A-Square paper towel sheets makes it easy to use less but clean more! I'm officially hooked on the quarter sheets! These are now available at your local Target but first learn more HERE and see how other people are using them. My kids can make some serious messes but they are no match for Brawny!
What are your favorite uses for paper towels?